Lawyers are trained in defense against cyber attacks
Publicado el 9/6/2017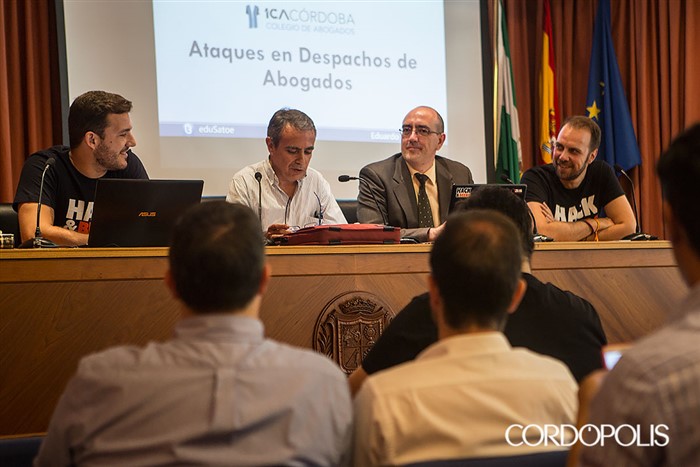 The Commission for New Technologies of the Córdoba Bar Association, organized by the Association of National Experts on ICT Advocacy (Enatic), organizes a conference on cybersecurity in law firms.

To begin with, put a hacker in the room. They are lucky, because it is not really a hacker and, in addition, it will raise awareness of how simple it is to attack a software system if one is not prepared or minimally updated. The audience is not anyone: lawyers - many of them with sensitive cases - who handle sensitive information every day that, in other people's hands, can be very poorly used and bring many legal problems. For this reason, the Committee of New Technologies of the Bar Association of Córdoba, through its School of Legal Practice and an initiative of the Association of National Experts of the ICT Advocacy (Enatic), organized a conference on cybersecurity in the offices of The partners.
"Lawyers have to know the consequences of being vulnerable to hackers," says lawyer Rafael Perales, a member of the Commission on New Technologies and a member of Enatic. "Lawyers have to know what are the responsibilities that have for their professional activity to work with sensitive data that are now being digitized and saving all computers," Perales continues.
It is not an occasional moment to perform this day. A few weeks ago one of the most powerful attacks occurred against a large part of the global network that put in check the impressive defenses of Movistar and got to infiltrate the digital system of the British Health Service. Other giants like Sony or Microsoft constantly suffer attacks. "Everyone, absolutely everyone is exposed and we are vulnerable and if an office does not have adequate protection, all customers are immediately affected," warns Perales.
What to do? To clarify this point was commissioned by the president of the National Association of Professionals of Ethical Hacking (ANPhacket), Miguel Arroyo Moreno, expert in cybersecurity. Basically, it is necessary an updated maintenance of the computer systems, use of firewalls, encryption of the data of the clients and users. "The damage that a company can suffer from an attack goes from the mere defamation of its brand image when a cybercriminal alters his corporate web with messages or images from others. At a more serious level are the attacks on the areas where the customer data are, "he recalls.
The Córdoba Bar Association has not registered any serious hacker attacks in dispatches in the capital or province, although in its intervention, Arroyo showed a couple of little known cases of buffets - one of national character but also with franchise of Cordoba - whose Digital portals have been visited by pirates. "In any case, the most common problems are malicious mails opened by ignorance and logically end up causing virus problems," says Luis Candel, the deputy responsible for the New Technologies Commission of the Bar Association.
The Commission has been conducting courses and training meetings for collegiate lawyers, from data protection policies and methods to how to handle digital evidence expertly for court cases. The last of these examples has been cybersecurity, which, in part, is also linked to the use of LexNET, the Ministry of Justice's platform for document management and exchange, which all lawyers and prosecutors, as well as other agents involved, have That know how to use.
"LexNET's big problem is slowness," ditch Candel. Attorneys and attorneys can spend hours filling out the forms to send the attachments and wait for the system to accept them and exit them. "The system is safe and we understand that it is necessary but we believe that it does not have the capacity to channel the flow of information that it currently has," concludes the deputy of the Bar Association.
©

Pajares & Asociados
-
C/ Paseo Independencia 21 , 1º Centro

,

50001
,
Zaragoza

,

España
-
(+34) 976 233 383
-
info@pajaresyasociados.com